Artificial Life and Synthetic Ethology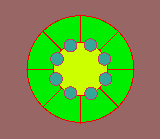 ---
Introduction
Artificial life has been defined as "a field of study devoted to understanding life by attempting to abstract the fundamental dynamical principles underlying biological phenomena and recreating these dynamics in other physical media - such as computers - making them accessible to new kinds of experimental manipulation and testing" (Chris Langton; for more, see Artificial Life ONLINE from Santa Fe).

Synthetic ethology is an approach to the study of animal behavior in which simple, synthetic organisms are allowed to behave and evolve in a synthetic world. Because both the organisms and their worlds are synthetic, they can be constructed for specific purposes, particularly for testing specific hypotheses.



---
Publications (reverse chronological order)
---

Return to MacLennan's home page

Send mail to Bruce MacLennan / MacLennan@eecs.utk.edu



This page is web.eecs.utk.edu/~mclennan/alife.html
Last updated: 2013-09-22.