September 9-15 2002 -- A Trip to Lyon, France
(I apologize if I have forgotten names or gotten them incorrect -- go ahead and send me corrections by email: plank@cs.utk.edu)
The reason was an invitation-only workshop on ``Cluster and Computational Grids for Scientific Computing,'' held at Le Chateau de Faverges de la Tour, (web site) a beautiful little chateau about 35 miles east of Lyon.
September 9/10 - Getting There
---
First a flight to Dulles, then touchdown in Frankfurt at 6:00 AM local time. As you can see, Frankfurt is beautiful today.
---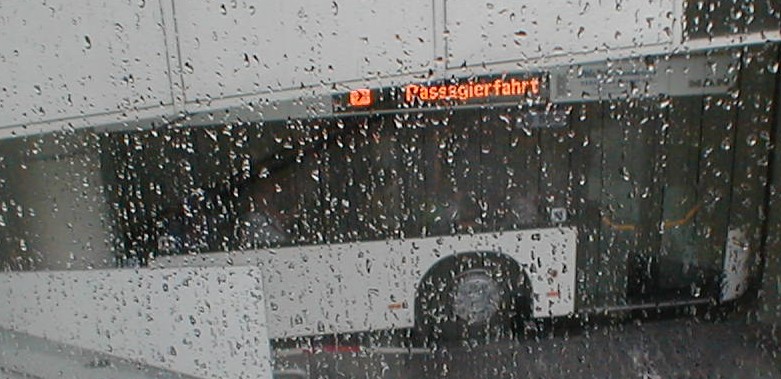 Around 9:00, I zombified down to the ``Passagierfahrt'' -- whatever that is, and was comported to the plane. I was able to make it through my three hours in Germany without speaking to anyone, which was comforting, because I am totally clueless with German.
---
Kind of an arty picture, no? No, that's not me, but the guy a few seats down who has similar glasses. We were flying over the Alps, which were peeking out of the clouds and were gorgeous. Evidently my camera couldn't figure out what to focus upon....
---
To Lyon by 11:30, and I snoozed and did a little hacking until 3:00, at which point I met up with the group of people to be bussed out. There's Jack Dongarra, coordinating things as always.
---
A bus full of cluster and grid researchers.
---
We arrive at the chateau, and I have time for a shower and a nap. Rooms are scarce, so you have to double-up, and as you can see, Micah and I will be rather close for the next few nights...
---
The chateau is beautifully situated, but I've been having a hard time getting this auto-focus camera get good scenic shots. Here are two pictures of the view from our window.
---
View #2.
---
After a few talks, I took a small stroll before dinner. Here's the first hole on the golf course, and the quaint ``clubhouse'' on the left.
---
The view from the side of the chateau. That's Jean-Yves Berthou, with whom I played golf two years ago.
---
The tower.
---
Champagne and appetizers on the patio before dinner.
I won't list the people because it would expose whom I don't know.....
---
The man serving triangular wedges of smoked salmon, random fish, and proscuitto.
---
A 2-hour dinner at 8:00. Here's the menu -- lots of oblique French adjectives describing a most excellent meal.
---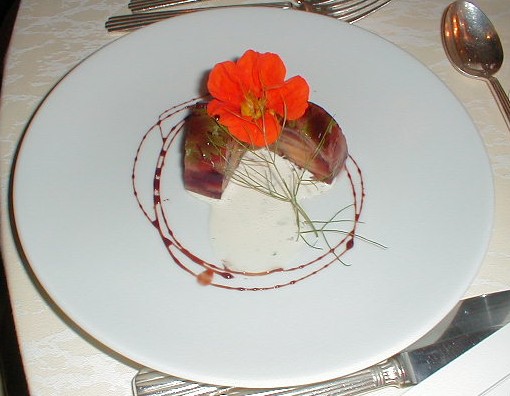 Course #1: ``Transparence de Melon au Vin de Cassis.''
Sliced-up melon in a caramelized goo, garnished with fennel cilantro, and a flower which I don't think anyone ate.
---
Course #2: ``Dorade Rotie Al Pesto Sur Spaghetti de Courgettes.''
Hunk of fish roasted in a pesto sauce on top of zucchini spaghetti. I won't comment on everything because it was all fantastic, and this was no exception, even for me who is not the biggest fish afficianado.
---
Course #3 (wine switch from white to red): ``Piece de Boeuf Cuit a la Casserole. Petites Au moniere de Pate a la Creme de Sauge. Jus a Quintessence.''
Hunk of beef, cooked in a casserole, evidently, on top of stuffed pasta in quintessential juice. Cherry tomato on the side.

I was sitting next to Henri Casanova, who was doing the translation, and even he was impressed with ``quintessential'' juice, which would be as representative of juice as juice can be. It was good juice.
---
Our dinner table: Dan Fay (Microsoft), Micah, Graham Fagg (a Jack-ite), and Dieter Kranzlmueller (Kepler University Linz, Austria).
---
A different shot -- Foreground: Roland Wismuller (University of Vienna), the backs of Thomas Ludwig (Heidelberg) and Dieter. Background: Henri (UCSD), David Abramson (Monash University, Australia), and Dan.
---
Course #4: ``Assiette de nos Fromages Affines.''
The cheese course: Upper left: Saint-Ma..... (Henri found out the name from Antoine, but I couldn't figure out the spelling), Lower left: goat cheese. The wedge on the right: camembert.
---
Dessert: ``Sur Fond Friable, Creme Acarigua, Glace Ivoire.''
Chocolate mousse-like stuff on a wafer with ice cream on top.

Dinner was over at 10:30 and I was exhausted, so straight to bed.
---
September 11 - Day #2 of the conference
---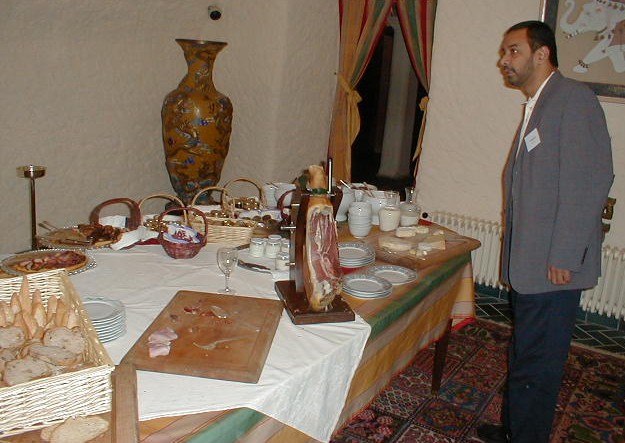 Wednesday, September 11. An important date spent in seclusion in a chateau outside Lyon. Unlike two years ago, I made myself get up for breakfast. Here's Vaidy Sunderam ascertaining the spread.
I especially liked the hunk of meat hanging from the portable hook. Unfortunately, I just don't care about breakfast that much, except for the coffee. I probably won't make it up on thursday and friday.
---
After the morning talks, we assembled in front of the chateau for a picture. Here's the picture homme, armed with five cameras or so.
---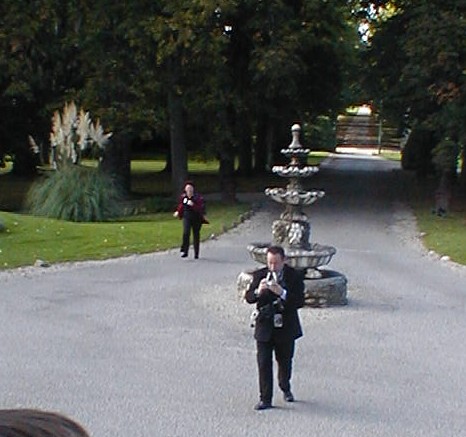 And there's Fran Berman running to get in the picture because she lingered behind in the conference room. As it turned out, we took another picture with Fran in it, and then Al Geist sauntered up. Then Patrick & Susan. Then Vaidy. Eventually I believe we got a picture with everyone. If Jack tells me where it is, I'll put it up on this site....
---
And onto lunch, and as we know, food is the highlight of this trip.
---
The Lunch table, one side: Satoshi Matsuoka really close, Putchong Uthayopas (Kasetsart University -- Thailand), Roldan Pozo (NIST), Cherri Pancake (Oregon State, yes, that is her real name), and Jeff Hollingsworth (Maryland)
---
The Lunch table, the other side: Micah, Phil Papadapolis (UCSD), Satoshi Matsuoka (Tokyo), Kevin Harris (HP).
---
Lunch course #1: ``Tomate Mi Chevre Mi Vache. Senteurs de Basilic.''
It's a stuffed tomato, goat cheese, on zuccini. Quite good.
---
The inside of the tomato.
I don't know about you, but this looks pretty labor intensive. Roldan surmised that maybe it's the same technology that gets icing in twinkies, but I think it's a bit more manual than that.
---
Course #2: ``Marmite du Pecheur Aux Legumes Safranes.''
Fish with vegetables. Remember the shape of that spoon while you're at it. This was the first course of the conference that left me wanting, probably because I'm not a fish fan, and I don't particularly like vegetables. So it goes.
---
Dessert: ``Terrine de Fruits Frais at Vin. Sauce des Bois.''
Jello with fruit. Sauce of wood? Whatever. Not really as good as mom used to make, and I'm afraid it didn't really fit the French vibe. Oh well.
---
After lunch, I went to work on my Internet connection -- here's the outbuilding in which we meet. Nothing spectacular, but I wanted to document it.
---
A garden view on the way to the outbuilding.
---
After getting my networking working, I skipped out to play some golf. I rented clubs two years ago, which was a drag, so this time I brought a 2-iron, 7-iron, wedge and putter, plus balls and tees. I decided to skip the early afternoon session (vendors talking), and went to play nine holes. Tres enjoyable. This was my birdie putt on #5, and given the leaf situation combined with the height of the grass, I had little enough confidence that I just whacked it. No birdie, but at least I parred the hole.
---
There was a foursome on the course, so I played the holes out of order so that none of us would be bothered. It's hard to see, but I yanked my drive on #4, and it was right of the tennis court hazard, and short of the marsh. (You can see it if you know what you're looking for). A stroke of luck! Even though my second shot went through the trees, I escaped with a bogey.
---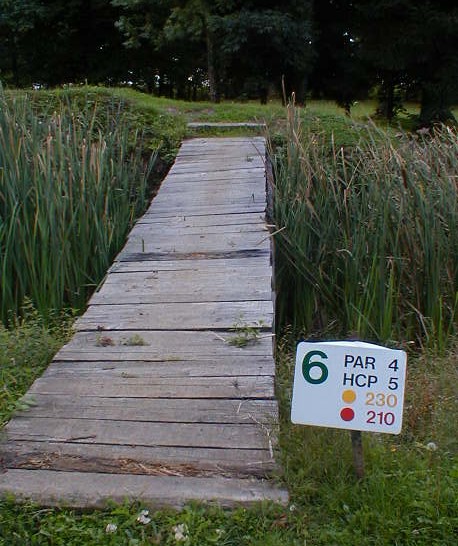 My favorite hole: #6 (if you remember the pictures from two years ago, I walked back with my camera to get this one). Just 230 meters, but the drive is from astroturf and over the tennis courts. And you get to brave the rickety bridge over the marsh to get to the tee....
---
The astroturf tee over the tennis court.
I chunked my 7-iron over the tennis court, and had a good 95 yards to the green, which unforunately I bladed for yet another bogey.
---
En route from #6 to #7, you pass through the corn field and the garden, and it is very pretty.
My clubs are there from where I had to pitch over the trap to the green on #6.
---
Another favorite -- #7. This is a 130 yard par three with the chateau garden on the wall to the left. Last year, Jean-Yves yanked one into the chateau, which caused us all much angst, waiting for the screams from the person struck.....
---
You can't see it, but I landed a choked-up 7-iron just right of that tower, which kicked it onto the green about 15 feet from the pin. My birdie putt wasn't even close...
---
Here's the view walking to the 7th green. It is beautiful.
---
Walking to the 8th tee, you walk behind the castle, past this contraption -- I think it's a grill of sorts, and would like to see it in action -- it probably grills stuffed tomatoes...
---
I was proud of this drive -- a blind 7-iron to 80 yards or so from the green. Unfortunately, I chunked my second shot, then flew the green for a double bogey. So it goes.
---
Back for more talks, including Micah's panel, then to the patio for appetizers. Little pastries, which I never tried because of the olive thingies -- these were sweet cubes of bread with an olive on top. Simply wonderful. There was also cheese and sliced sausage, which were nice, but nothing like the olive thingies...
---
Onto dinner. As you can see, Jack got his name on the menu, which is much more impressive than authorship on an IEEE transactions paper.
---
The dinner crowd. On my left were Susan Blackford (ex-Jackite) and her husband Patrick, who is from Lyon and whom I will never forget as he introduced me to Andouilette (tripe sausage) two years ago, Micah, and Rusty Lusk (Argonne)..
---
The right side. Fran Berman (UCSD), Gordon Bell (Microsoft), Tom Sterling (Cal Tech), Bill Gropp (Argonne) and Roldan Pozo (another ex-Jackite NIST).
It's a little known fact that I too am an ex-Jackite, from 1991.
---
Course #1: ``Royale de Crustaces. Emulsion de Bisque Relevee a la Noisette.''
Some crustation cake. I wasn't too big on this one, and choked it down to avoid embarrassment. Ok -- the spoon with the notch. Patrick asked what was the deal, and the Maitre D said it had no pratical significance except to signify that fish was in this course. Kind of anticlimatic, but at least now we know...
---
Course #2: Patrick (with Micah in the background) with ``Saumon Mi-Cuit sur une Tombee de Feuilles. Creme l'Oseille.
Salmon on spinach, garnished with parsley.
---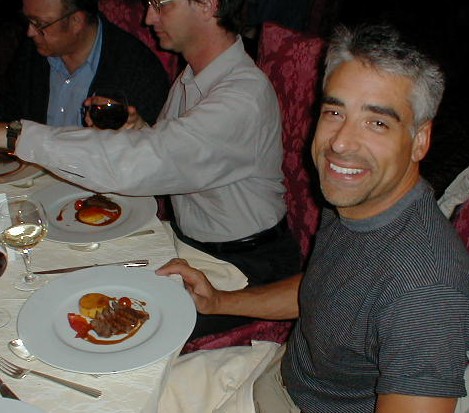 Course #3: Roldan with ``Magret de Canard a la Casserole. Galette de Mais Rotie,''
Slices of duck breast with a hockey puck (Patrick's translation) of roasted corn.
---
The cheese course. Swiss in front, Saint Marcellin next, and goat cheese in the back.
Patrick gave me the spelling that eluded me last night. It's a hard cheese, but quite stinky. This is Roldan's plate because that's a big hunk of Saint Marcellin -- the rest of us for some reason had much smaller pieces.
---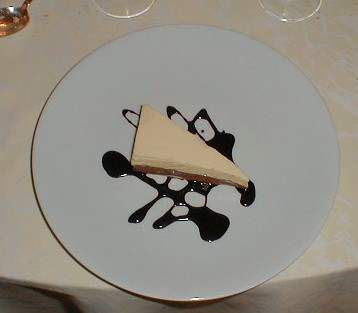 Finally dessert. A Kandinsky-esque ``Symphonie de Chocolat. Jus de Cacao.''
Ok, I have to speak up -- it wasn't a symphony. It was just dessert. Perhaps I am a Philistine.... Good night.
---
September 12 -- Another day of talks, food and golf
---
It was an overcast and rainy morning, and I skipped the first session of talks to prepare my talk. Here I am, going to the meeting room for the first break.
---
We skip some time. I gave my talk, and now it's lunchtime.
---
So, I got this far through my ``Jarret de veau Confit Longuement,'' and realized that not only had I forgotten to take a picture of this course, I had forgotton the first course as well. For shame!
Regardless, this was an excellent dish: `Jarret de veau Confit Longuement, Jus aux Epices, Ragout de Lentilles Vertes,' -- Veal in a spicy sauce and with green lentils. Wonderful.
---
Cherri knew how diligent I had been about taking pictures of the meals, so she lobbied the Maitre D to bring us a late appetizer so I could take a picture of it. Thanks, Cherri. Here she is with the ``Carpaccio de Thou, Marine d'une Vinaigrette Gourmande.'' I.e. raw tuna with vinaigrette.
---
And there is the appetizer in better detail. Fortunately this was a good one, and I had no problem eating the second appetizer after my veal and lentil course.
---
Dessert: ``Duo Ananas-Coco Sur un Biscuit Joconde, Jus de Passion.''
Fluffy dessert with raspberries.
---
After lunch, we had a nice 4-hour break. I met up with Jean-Yves and played golf, but evidently the real thing to do was pair up and schmooze. Everywhere I went, there were power-tete-a-tetes going on.
It's hard to see, but on the bench in the garden are the schmoozings of Bill Gropp and Tom Sterling.
---
And on the other side, Peter Beckman schmoozing with Andrew Grimshaw.
---
Straight ahead, there's Vaidy, schmoozing in the shadows with a person yet to be determined.
---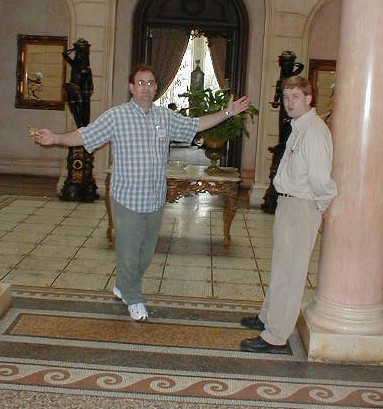 Back in the lobby, Micah and Graham Fagg are talking shop.
---
And as we walk to the golf course, there's Al Geist and Wolfgang Gentzsch.
---
Finally some golf. There's Jean-Yves, teeing off on #2.
---
Jean-Yves assured me that most golf courses in France are respectible.
(This was after I remarked that I had never seen a golf course that was even remotely close to this one).
---
Jean-Yves, teeing off on #3 -- a narrow fairway, but with plenty of adjacent fairways....
---
The driveway to the chateau is situated between the 3rd and 6th holes. Unfortunately I yanked my 2-iron from #4 over this road and into the marsh on the left -- it didn't hold up as it did yesterday.
Another double-bogey...
---
The view from the fourth green-- an eglise in the fog.
---
On #5, I pulled my drive, which landed straight between the astonished Thomas Ludwig and Mark Baker in the tennis court, and bounced into this cubby-hole in the tree.
Needless to say, this was an unplayable lie...
---
A few holes later, Vaidy joined us and tried a drive on #7.
A few whiffs and a shank, but we may get Vaidy into the game yet....
---
And on #8, an ominous-looking Jeff Hollingsworth composed the gallery, watching from pool.
---
More talks, and then appetizers. Inside this time, since the weather was so yucky. Puffs and olives.
---
The menu for dinner, thanks to our sponsors.
---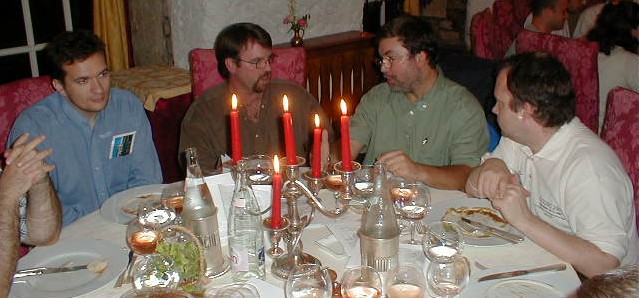 The right side of the dinner table: xxx, Dan Fay, Andrew Grimshaw, Jeff Hollingsworth.
---
And the left side: Jean-Yves, Yves Denneulin (INRIA), Jeff Rulifson (Sun), Micah.
---
Course #1: ``Mosaique de Rouget, Senteurs Mediterraneennes''
Mosaic of smelly mediterranean fish. (That was Jean-Yves translation). Again, I started eating before taking the picture, but fortunately, Andrew Grimshaw was not eating his triangle, affording me a pristine shot.

The wine caused a bit of a stir later in the dinner. I believe we were all expecting a shift to red wine at the main course, but no, we received this rather bland blush wine the entire time. Jean-Yves and Yves expressed their disgust to the Maitre D (``I don't acknowledge pink as a color for wine'' was the quote), who informed us that it was a local vintage and very expensive. No one believed him....
---
Course #2: ``Ravioles du Royans au Bouillon Cremeux.''
Ravioli in a lobster sauce, which was wonderful. I didn't realize that France had lobsters, but evidently they are farmed off the coast of Brittany and are very expensive.
---
Course #3: ``Joue de Boeuf Charolais, Braisee sur une Parmentiere
Roasted cheek of a cow on potatoes. Evidently Mr. Parmentiere was the man who brought potatoes to France, so the menu calles them ``Parmentieres'' rather than pototoes. Good thing to know if you're at a hoity-toity meal: ``My, these French Fried Parmentieres would be so flattered by a dollop of Ketchup.'' The beef tasted just like pot roast -- I wonder if they sell cheeks of beef in the US -- it tasted just like the pot roasts that the Galloways used to make.
---
The dinner room's ceiling is parabolic, and depending on where you sit, you can hear various people across the room like they are microphoned. Far away, scratching his head, is Dieter Kranzlmeuller, whose every word sounded like it was amplified behind me. I'm sure he had no clue.
---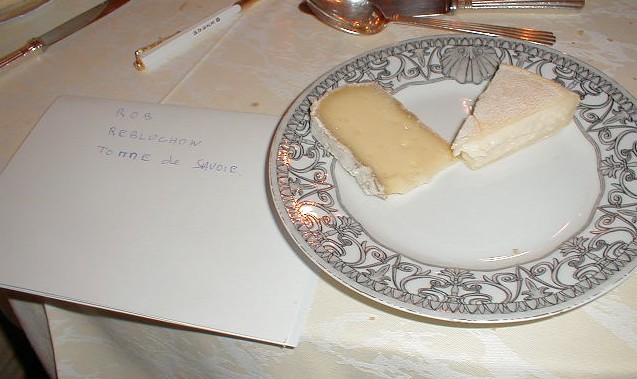 ``Assiette de nos Fromages Affines.''
The cheese course: The pie wedge was ``Reblochow,'' and the big slice was ``Tonne de Savoie.'' Thanks to Jean-Yves and Yves for the identification. Evidently both are local cheeses. These French people certainly know their cheeses. I was told that in Grenoble there is a cheese shop with well over 150 varieties, and the patrons know which varieties are in their peak form each week. Go figure. They all taste like stinky French cheeses to me -- the only difference is the stink. I guess were I able to quantify and qualify that, I'd be a cheese connoisseur.
---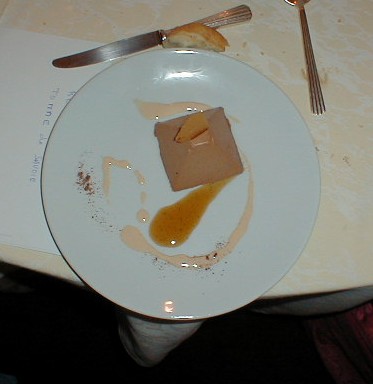 Finally dessert: ``Pyramide de Gianduja.''
A pyramid of fluffed walnut stuff -- it was fantastic. Yves told me it's not too hard to make, but I'm not too sure where to start....
---
September 13 -- We leave the chateau.
---
A bad photo of the kitchen. I should have watched before a meal -- I bet it was colorful... Regardless, I made breakfast today, so that I could have orange juice and coffee...
---
Two sets of talks, and we go straight to lunch. The last meal of our stay.
---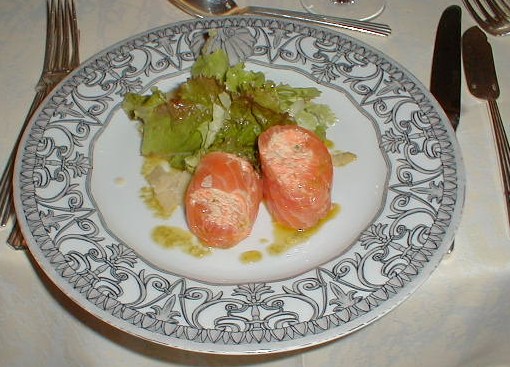 Course #1: ``Pannequet de Saumon aux Legumes Croquants''
I didn't get expert translations this time -- smoked salmon rolled around some stuff on lettuce. I love smoked salmon, so I ended up eating mine, Andrew Grimshaw's (he didn't want it), and half of Cherri Pancake's (she said she had been eating too much). Man it was good.
---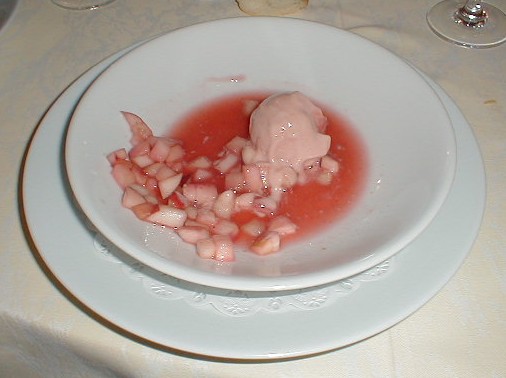 For shame! I forgot to take a pic of the main course. Damn. It was ``Supreme de Volaille Legerement Fume. Fondant de Carottes << Choux Fleurs Verts >>'' Whatever that means -- some bird on top of ground up carrots, with some icky broccoli on top. Not my favorite. Here's dessert: ``Minestrone de Peches au Jus de Fraises. Sorbet Rhubarbe.'' Rhubarb Sorbet with chunks of peach in strawberry juice. Just fine.
---
The right side of the table: Micah, Jean-Patrick, and two ENS people whom I didn't meet.
---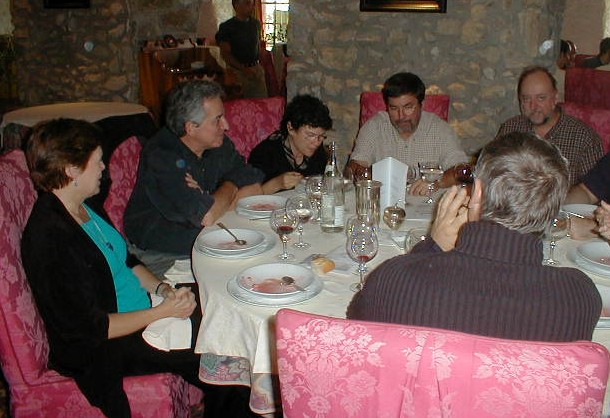 The left side of the table, considerably more powerful: Cherri, Jeff Rulifson, Fran, Andrew and Jack.
---
Jack gave me a hard time about the resolution of my pictures, so I've switched into higher-res mode. We have bussed back to Lyon, and unfortunately, I napped, which meant that I missed dinner with Jack, Phil, David and Vaidy. Actually, after all that food, I wasn't overly hungry. I ended up eating an apple and some yoghurt for dinner, and headed out on a walk. This is ``Rue de la Republique,'' a pedestrian mall near my hotel.
It's impossible not to love French windows, don't you think?
---
Beautiful sycamore trees, no? Evidently, sycamores don't really need their bark....
---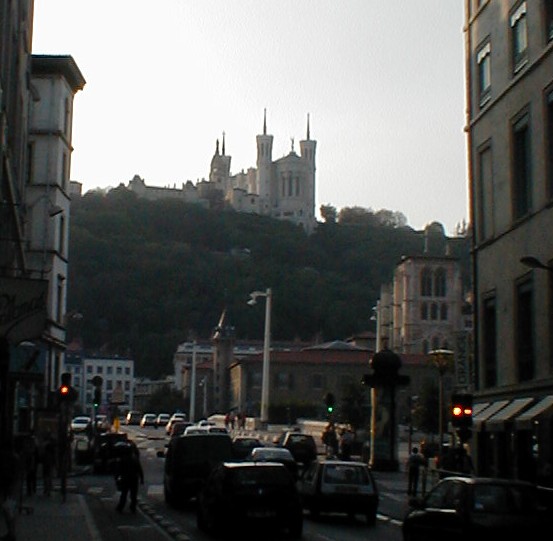 Lyon has interesting geography. Two rivers go through town, roughly a half mile apart, and then they meet in the south of town. To the west of the Saone river is a steep bluff, dominated by the Cathedrale Saint-Jean, which you see here. If you remember my last trip to Lyon, Patrick Geoffray took us up the ``funicular'' (cable car) to the cathedral, which has a beautiful view of Lyon. This time, I decided to walk.
---
Through the ``Vieux Lyon'', you find some steps that go up, up, up.
---
About three-quarters of the way up the steps, you rise above the roof lines. That crack between the two buildings is where the steps are...
---
A few more sets of stairs later, and I'm on top. Down on the right is the pedestrian bridge on which I crossed the Saone. About five blocks beyond that is my hotel, and then a few blocks beyond that is the Rhone, which you can identify by the line of trees.. Lyon's a neat city.
---
To the north of the cathedral is this big communications tower. I wouldn't have taken a picture except I liked that big drum halfway up.
---
I took the ``Montee Nicolas de Lange'' stairs down -- the map implied that it may be pretty. Unfortunately, there were no views -- just high walls on either side.
---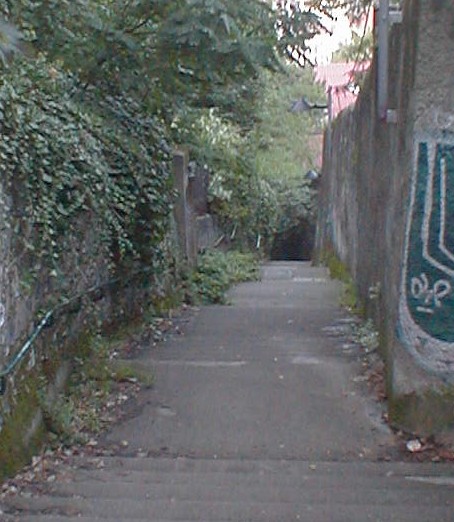 Then it started to become a bit scary -- overgrown with weeds and laden with graffiti. And no exit -- just the high walls. When I passed by the broken glass and pool of urine, I was a little concerned, but I didn't meet anyone on the steps.
---
It dead-ended onto a wider road, and I passed some elderly men, which made it seem a bit safer. Still no real views.
---
The view up the final steps, from the Place St-Jean.
---
Just past the Pace St-Jean -- here's something you don't see every day -- a condom machine on the sidewalk. I imagine if you buy one, you do it proudly in front of all the other pedestrians.....
---
Crossing the Saone again, right where it bends.
---
Down by the river, two men were drumming with their bongos, and it kept my attention for a few minutes.
I'm sorry, but they were nothing compared to the drummers in the Alcoa high school band. They would do well to attend one of Alcoa's football games.
---
Walking back to the hotel, I passed a curiosity at the Place des Terreaux. Some guy teaching line-dancing, I think. What a scene.
So, the fountain in the background is of a style that I've always hated. Woman with bare breast and nearby children/cherubs rides multiple completely crazed and scarily large horses. I don't know what the vibe is supposed to be, but let me tell you, if I saw a scene like that in real life, I'd be running away screaming.... Of course, I wouldn't get too far, because those horses are big and they don't look like they are thinking about anything remotely calm, and I don't think they'd treat me like more than a bump in the road. Bizarre.
---
On the walk home, I passed L'Entrecote, which was the restaurant in Toulouse that we liked -- wonderful steak with frites. And unlike Toulouse, there was no line. Had I been hungry, I would have stopped for some food, but as it was, I simply passed by.
---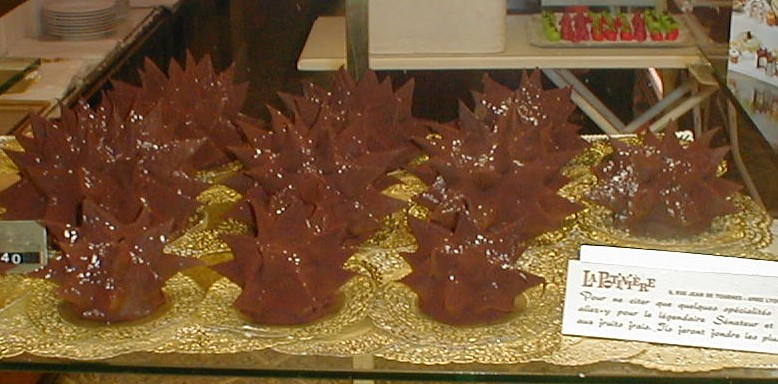 A confectioner's shop on the way home, who makes origami truffles, it would appear.
---
September 14 -- A day in the Alps
---
Up at 7:30 for my big day. I dined with a tour group from Michigan, most of whom appeared fed up with the amount of driving, then subwayed to the train station, then took a bus to the Airport to rent a car. Here's my steed -- a diesel Peugot. I find it kind of amazing that they'll let you rent a car even though you don't know a word of the language or what any of their signs mean.
---
I flew down the interstate and in under an hour, I was at the foothills of the Alps. The plan was to spend the first part of the day in Vercors, and the second part in the higher mountains.
Vercors is a a big plateau, about 20 miles wide and 50 miles long. Maybe bigger. There are only a few routes up -- probably about 10. And once up, it's filled with mountains and gorges, but also with beautiful valleys and some plains. I'll get to the history later.

Anyway, this is the route up at Sassenade, a few miles out of Grenoble. At one time, I believe this may have been the only route from this side of the Alps.
---
This is the Gorges de la Bourne which is evidently the major gorge bisecting Vercors. The road is also typical -- cut into an overhanging and often dripping rock face with maybe enough room to pass another car. Fortunately, there are lots of indentations for pull-outs.
---
Very dramatic scenery, that will become commonplace over the next bunch of pictures.
---
At some points they cut tunnels in the rock. Here's one leaving the Gorges de la Bourne en route to La Chapelle en Vercours.
---
Looking down at the picturesque road that follows the Gorges de la Bourne. I didn't get the chance to take this road, which was supposed to be beautiful as well. Next time.
---
More picturesque scenery. Going south at St. Martin en Vercors.
---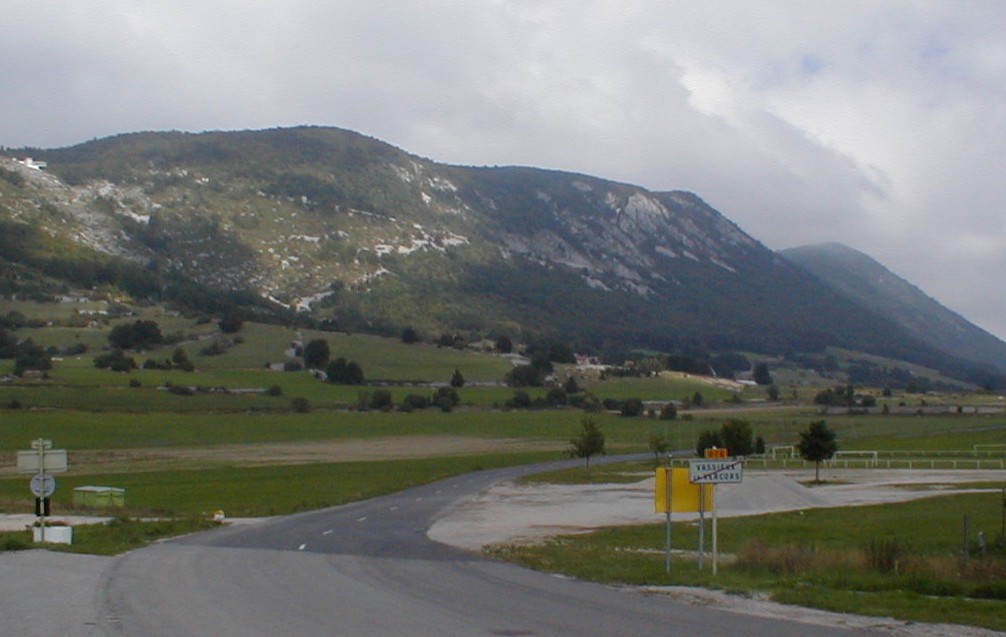 The southernmost part of my journey. Terry had strongly recommended this gorge called ``Combe Laval,'' and her Michelin guide implied that it was better from the south. So this was all part of the route to the southern entrance to the Combe Laval.
However, this place has an interesting and tragic story. This is Vassieux en Vercors. In 1943 or so, France was occupied by the Nazis, and a few folks from Vercors concocted an idea that Vercors would be the ideal spot to build the Resistance. Since it was hard to get to, and since the routes were easy to block, they could build strength there and descend to chip away at the backs of the Germans while the Americans worked on them from Normandy.

A dispatch was sent to Britain and a militia of roughly 400 was built in various camps. The dispatch was lost, however. Moreover, the Germans thought that the territory was too much of a bother to mess with, so the residents garnered hope that the restoration of France lay with them. (This is my paraphrasing, by the way. I could be wrong).

When the British discovered their oversight (July, 1944), they gave an approval of the idea, but my impression is that the French were a bit overzealous in their acceptance. Over 4000 troops assembled there, and it was declared part of the ``Republique'' again. American planes with rations and munitions parachuted them in Vassieux en Vercours, and the Germans saw it. Bad idea. (Actually, I'm not sure that the parachutes were really the cause -- I imagine German intelligence had something to do with it -- nothing said this, of course, but it's more believable to me -- how did they know there was an airfield there?)

So now the Germans were pissed, and I'm guessing they were more than a bit concerned with the goings on in Vercors, so they flew in something like 15,000 troops, using an airfield in Vassieux that the French had constructed. Everyone was killed. Men, women, children. No building was left standing. Not a soul in Vassieux (population of 100 or so) survived. The Germans also sent troops over the mountains to reclaim the area. Let's just say you didn't want to be French and living in this relatively desolate part of the country. You were to be tortured and killed.

Anyway, the memorial museum is up on that mountain to the left -- you can see the road going up to the pass. After testing out the town (it looked like all the other little towns in Vercors), I went up the pass to the museum.
---
Here's the memorial/museum, beautifully situated, and looking like architecture straight from the 70's. Interestingly, it was built in 1994.
---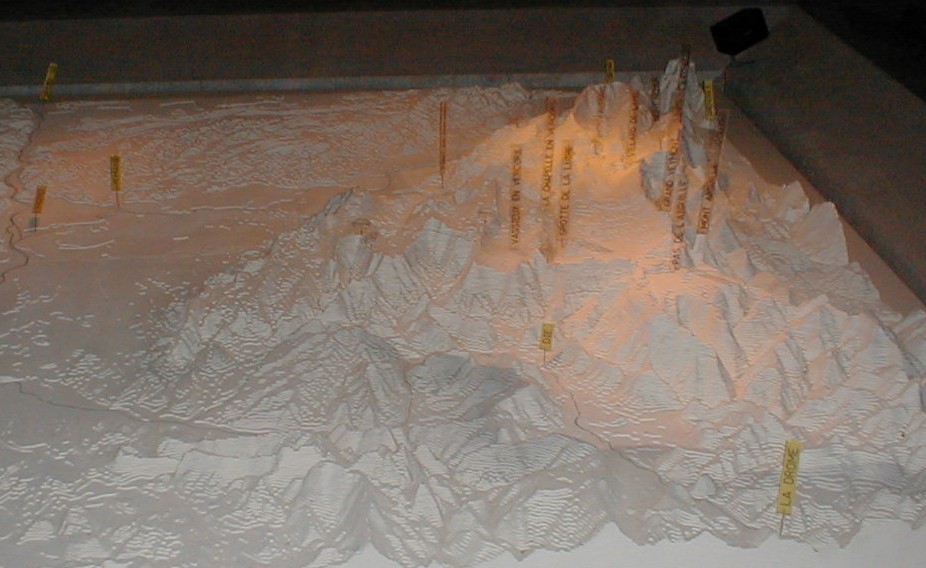 The museum is broken up into 5 chambers. The second one contains a narrated slide show and this topological display, which was very interesting. I found this part of the museum fascinating.
---
Here was the last chamber, and the flash makes it look more hospitible than it was. A bunch of these seats in a dark square room with various rubble piles. Creaking noise here. Screech there. Then a letter from a German soldier or a recollection from a French National. The best part is that there was no way out -- there was a massive door on the far end, but it would only open at the end of this ``reflective period,'' which I can only imagine is like an LSD trip turned sour. What were the designers thinking? Fortunately, there was a ``Sortie de Secours'' (Emergency Exit) and the alarm didn't go off when I took it. Too weird for me.
---
The observation deck of the museum. On the left is the memorial cemetary of the massacred. I'm guessing that the airstrip was somewhere on this flat space. The town is on the right.
---
Vassieux en Vecors, and its entrance road from the south.
(I came from the north)

Before we leave this spot, I was impressed that while the horrors of the occupation and massacre were made crystal clear, the exhibits humanized the German soldiers, and did not treat them like ogres. I am guessing that the French believe, rightly I think, that once their civilians tried to assemble an underground army, the Germans were only doing what they would have done -- squashing all potential retaliation. Very similar to our soldiers in Viet Nam and Korea. Once civilians stop being civilians, all bets on safety are off. Sad, but true.
---
On with the journey. Back to the highlands, and once through a pass called ``Col de la Machine,'' this amazing valley appears from nowhere. This is the Combe Laval.
---
There's the start of the Combe. You're driving along (from the right), make a turn, and there it is. Extremely impressive, and I'm glad I made the journey from the south. It would not be so startling otherwise.
Had I time, I would have tried to hike out to that cliff. I bet the views are exceptionally harrowing.
---
There's the road at the start of the Combe. In and out of the rock, up on the cliff. You don't drive very fast.
---
A shot of the valley.
---
The road is amazing -- sometimes in the rock, and other times built out overhanging the gorge.
The Michelin guide says ``Get out of the car and take a few steps at the most vertiginous spots.'' Dig it. I did a lot of stopping and peering here.
---
A view down the road. At the end of the valley you can see the town of St. Jean en Royans.
---
You simply don't drive roads like this every day. A great recommendaiton from Terry and Geoff.
---
A time-release. Jim peers into the Combe. You can see people walking the road. Next time, I'd like to do that so that I spend a little more time there.
---
Another time-release. The road leaves the Combe and descends into Royans.
---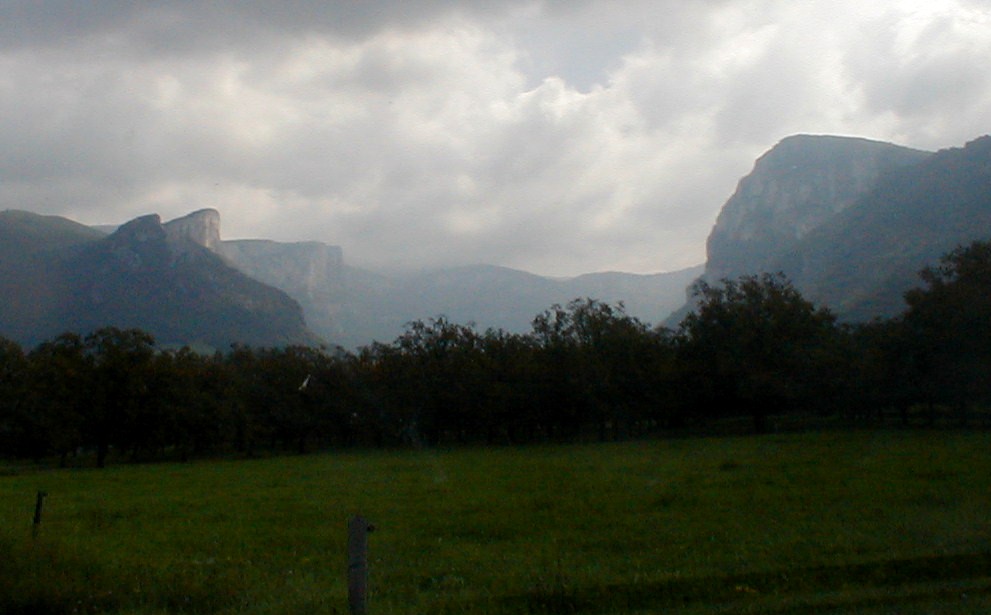 Now we're down in St. Jean en Royans. There is the entrance to Combe Laval. I'm also guessing that this is the historical view that a Frenchman would have of Vercors -- an inaccessible high plateau -- without those tunnels and cliff-hanging walls, you were not getting up to the plateau this way.
---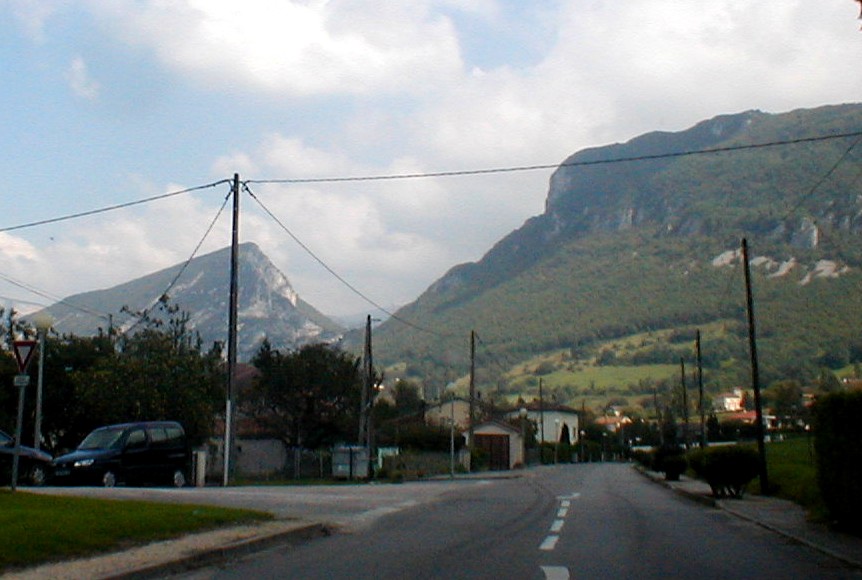 A more northern view of the plateau -- this time in St. Eulalie en Royans. We'll be going into that valley next.
---
This is the road to the Grandes Goulets. It's a steep valley that ends in a waterfall at the top (the Grandes Goulets).
This is beautiful country.
---
Like the drive through the Combe Laval, this drive would be impossible were it not for some imaginative French engineers.
---
Jim and the valley.
---
The valley and the road, cut into the rock face.
---
There's the start of the valley -- the ``Grandes Goulets'' which from this perspective don't look very impressive.
---
I didn't shrink this picture because you need the whole thing for dramatic perspective.
---
There's the same picture, shrunk to a lower res.
Not as exciting, don't you think?
---
There's the top of the gorge, again in high resolution.
---
And a smaller view of Les Goulets with the roadway.
---
One final look down the valley.
---
Ok, now I was done with Vercors, but had to get off the plateau. Here's a view going toward Villard de Lans from the Grandes Goulets.
---
Looking down the Gorges de la Bournes.
Man that's pretty, but not my route -- I headed through another gorge to my right.
---
Instead of going back through Sassenade, I took a steeper pass whose apex is the town St. Nizier. The view going up is great, showing the Gorges D'Engins.
---
Going down the other side, to Grenoble (in the distance). We're passing Le Tennis and Le Mini Golf. I didn't have time to play....
---
Onto the second part of the journey -- through Vizille and into the ``Gorges de la Romanche'' which passes at a good speed through extremly steep and high mountains.
Unforunately it was after 4:30 at this point, and after seven and a half straight hours of driving, I was stating to tire.
---
Another valley shot. I didn't know France was this beautiful.
---
An Alp. This was the point when I saw that my destination (La Grave, or perhaps Oratoire de Chazelet, I wasn't sure yet) was still 50 kilometers away. So I sadly decided to give up on that destination. Instead, I decided to head up the next mountain road that came my way.
---
When I looked up from my map, I saw this yellow van on blocks, sporting a spray-painted image of Mr. T on the back. Clearly a good omen for my most recent decision.
---
The next mountain road was a place called Allemont, very close to L'Alpe d'Huez. Although Allemont was in the valley, the map identified something called ``La Traverse'' that included a view. Here it is. That's a mountain village called Villard Reculas, which you can't even see from Allemont. Who in their right mind would live in such a place!
---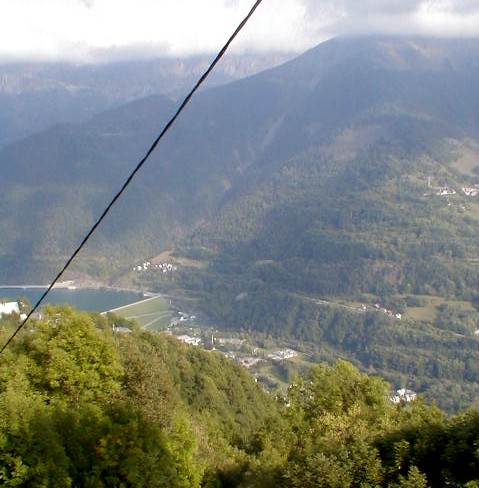 There's the dam outside of Allemont.
---
And there's the view -- the valley, and some snowcaps behind. The picture doesn't do it justice.
---
More of the same, but with the peak of Cornillon visible to the right.
---
Going back down. On that ridge to the right are ski slopes, but you can't see them in the picture. Pity.
---
So, I knew the Combe Laval drive would be scary but this drive was downright terrifying -- no guide rail, and the right side of the road was furrowed with sections that had fallen down the mountain. Fortunately, I only met a few cars on this road, and I drove about 20 mph.
---
The final picture from the drive -- this is from the dam that you can see in a previous pic, looking up at the mountain on which ``La Traverse'' was.
I made it back to Lyon at about 8:00, had some pizza for dinner, and called it a night. Maybe next time I go to the Alps, I'll have longer than 12 hours.....
---
September 15 -- Going Home
---
Not much action today -- just a lot of flying: Lyon to Frankfurt, Frankfurt to Washington, Washington to Knoxville. I think hurricane Hanna had some effects on the Atlantic because every flight was bumpy, including the big one across the ocean, which was perpetually jostling, and at times got quite disconcerting. So it goes -- I imagine we were all safe, but all the turbulence underscores how much you're at someone else's (the pilot, the mechanic, the manufacturer) mercy.
This picture is of some bad planning and bad allocation of resources. I had a 40 minute layover in Frankfurt, and had to get through passport control during that time. We packed into an elevator, and here was the view as the doors opened. No room even to get out of the elevator. It took about a half hour of pushing and wedging to get to that door you see under the green sign.
---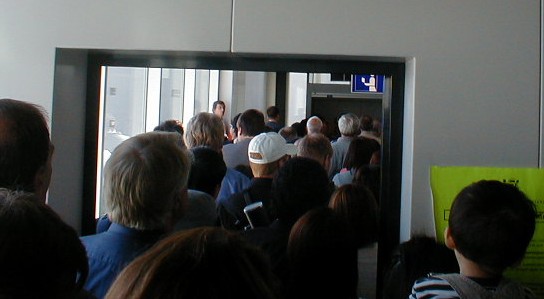 And then another 15 minutes to get through that corridor to the passport stamper. Fortunately, they must have known, because they delayed my flight about 20 minutes, and I made it on. I imagine others were not so lucky.
That's it for the trip. A nice trip, but whenever I do these, I am glad when there are no more trips to Europe on the horizon. \UL