CCGCS 2004 -- Lyon Conference
---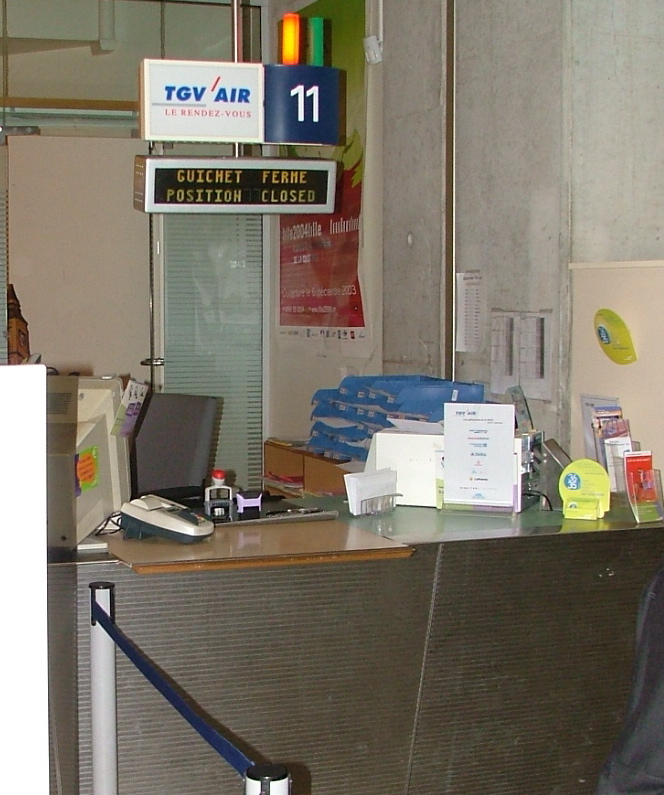 We start with the obligatory travel picture. As always, I land in Europe (this time at Charles De Gaulle) feeling like a complete zombie, and I found the train station with 50 minutes before my train was to leave. Unfortunately, this was the the desk where my ticket was to be processed. Fortunately, there wasn't a 500 person hunger-strike line there, and someone did show up in 15 minutes. The rest of the trip (train to Lyon, bus to the chateau) went quite smoothly.
---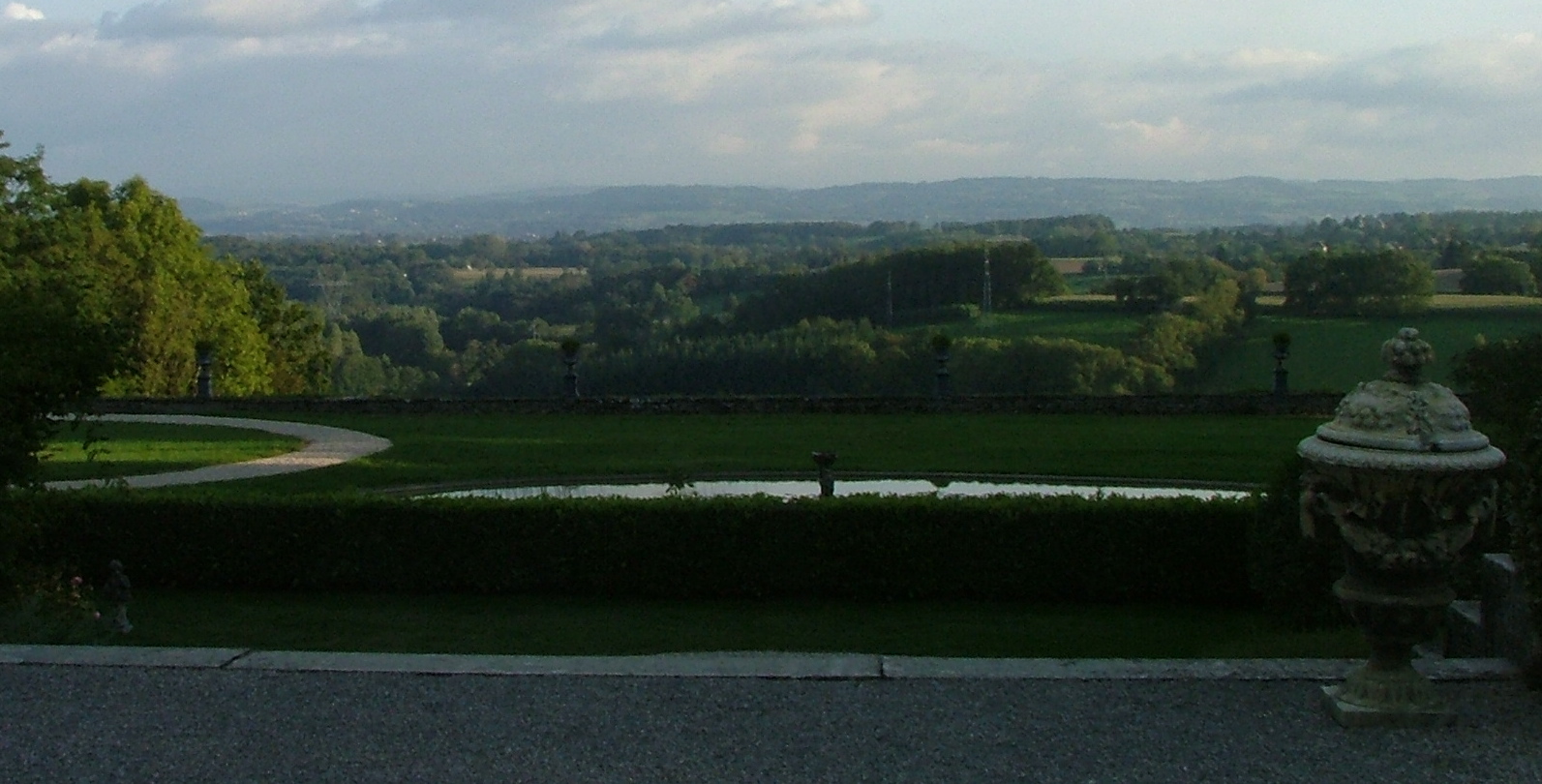 Here we are at the chateau -- a little cold this year, but still beautiful, just east of the start of the Alps.
---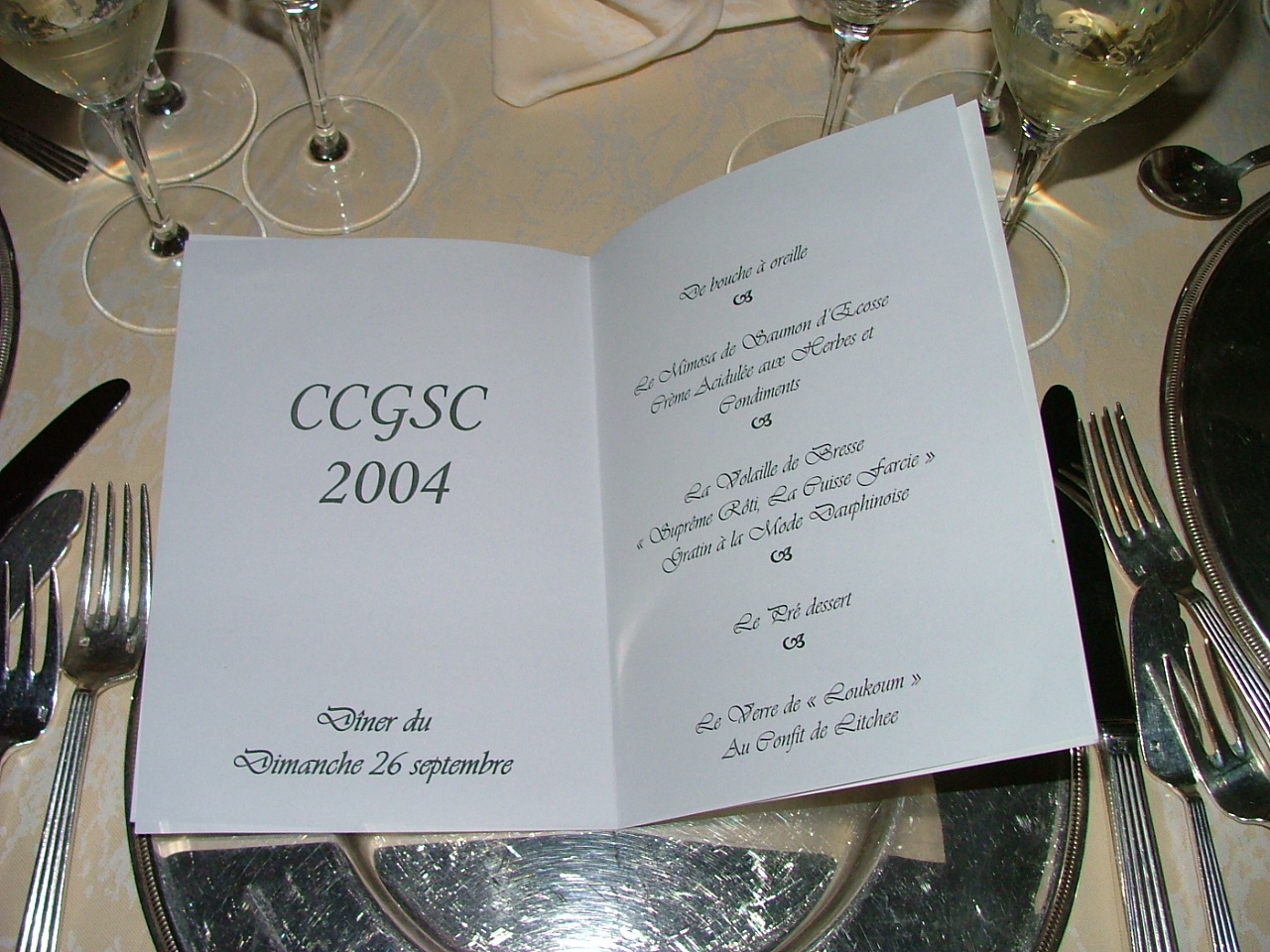 Three talks, and we enjoy our first meal. Le menu.
---
Jack (termed the next day "Le Grand Fromage" by Fran Berman in her talk), gives an opening toast. Evidently this is the 7th installment of this workshop, and I'm pleased that I have now participated in over half of them! That's Ellen Chien in the foreground.
---
Course 1: Le bouche a oreille. I have no clue what this was -- a beet? A turnip? I think there was a slice of some root vegetable with some white sediment-laden broth. Weird, and not altogether pleasant. Hopefully (in my opinion), not a harbinger of food to come...
---
Course 2: Le Mimosa de Saumon d'Ecosse. Creme Acidulee aux Herbes et Condiments. Or -- "salmon triangle with other stuff." Craig Lee (my roommate for this year) is our salmon model.
---
Course 3: La Volaille de Bresse. "Supreme Roti, La Cuisse Farcie."" Gratin a la Mode Dauphinoise. Chicken, potatoes, pork? Very rich...
---
Course 4: Le Pre dessert. Some kind of creamy chocolaty pudding thing -- a fine intermezzo.
---
Course 5: Le Verre de "Loukoum" Au Confit de Litchee. More creamy stuff, with Litchees. I should have taken some people pictures as well, but since I was still existing on about 90 minutes of sleep from the plane, I wasn't on top of things....
---
The next day -- monday. I woke up at 7:30 and couldn't get back to sleep, so I went down to breakfast. Here is one of the French workers, cutting thin slices of fatty meats.
---
And here's the left side of the breakfast spread -- fatty meats and cheese. Tonne de savoie in the foreground, which I remember because Terry, inspired by my Lyon 2002 pictures, sent me some for Christmas that year.
---
The right side has the cereals, yoghurt and breads. My favorites are the chocolate croissants, and the peach yoghurt -- for some reason, yoghurt tastes better coming out of glass...
---
Here's a rather unhappy looking picture of Jack and Fran Berman, while Fran fields questions from her talk. I took the picture because Fran had put "Thanks to Bernard and Le Grand Fromage," on her slides (the latter referring to Jack), and I liked the sobriquet. It is a very pleasant meeting room, with the amusing feature that it has a drain pipe traveling down the left side which comes into prominence whenever someone flushes upstairs....
---
Le lunch menu.
---
Course #1: La Tarte feuillete aux champignons. Euf poche a la creme. Tart with a mushroom layer, topped with a poached egg in cream. Were I a fan of mushrooms, I would have loved this. As it was, it is merely ok.
---
Course #2: La Marmite du pecheur aux Legumes et Riz Sauce Safran. Chunks of fish with vegetables and saffron rice sauce. This was kind of a low point -- stanky fish and vegetables in a saffron rice sauce. Like mushrooms, I'm not too big on random baked fish. So it goes...
---
Here's Satoshi, Micah, and Roldan's hands, ready to eat course #2.
---
Course #3: Pomme Rotie au Miel et Son Sorbet: Stewed apples, some other tart fruit and sorbet. Most excellent.
---
Unlike the previous dinner, I swore I'd get some people pictures -- here's our lunch table: Ellen Chien, Andrew Chien (UCSD) & Dan Reed (UIUC) ...
---
Here are people whose names I will have to look up later: Pascale Primet (I think...) , Denis Caromel, Phillippe D'Anfray.
---
Satoshi, Micah, and Roldan Pozo.
---
Many hours have passed. Denis Caromel, Thomas Ludwig and I played tennis, and then I paid the price by narcolepting through the panel discussion. Here's the chateau in the dusk as I walked back from the panel.
---
And the view of the left staircase as I walked up the right staircase to dump my computer before dinner -- note the candle thingies on the stairs. Some rather bombastic piano concerto was playing on the speakers (I'm embarrassed to say that I don't know the composer...)
---
Before dinner, we had a wine tasting -- two whites and two reds, and a lot of prose by this guy and his compatriot about the wines, how to taste them, etc.
---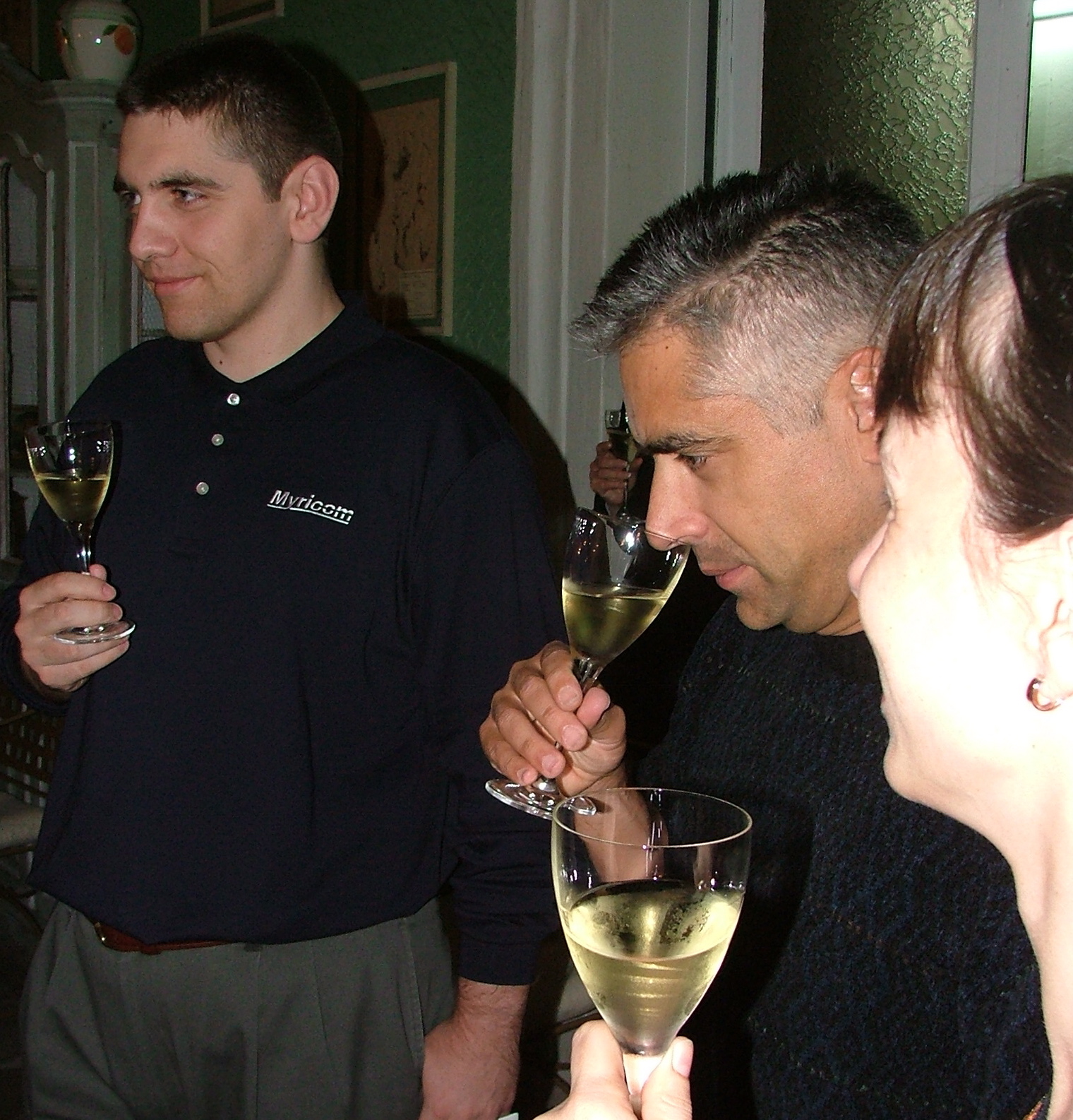 I've been to enough wine tastings to know the drill by now. First, stare down the wine ("taste it with your eyes," said our host), then sniff above the glass. Then stick your nose in and give it a good snort. Twirl it around a bit -- then backwards (I hadn't heard this one before -- we were to swirl both clockwise and counterclockwise). And finally taste. Roldan is doing the nose in the glass, flanked by the non-smelling Patrick Geoffrey and wife Susan Blackford.
Patrick was hilarious (as he often is) about wine-tasting, which is refreshing, since he is French, but most definitively not full of shit. His quote: "wine tasting is like astrology -- they make stuff up, and you believe it. They say 'taste the bananas and strawberries in this wine,' and all of a sudden, you think you taste it..." Patrick will live in my memory as the one who took us to lunch in Lyon in 2000, and recommended what turned out to be tripe sausage, which I bravely choked down, but will not order again...
---
Some more dutiful sniffing and twirling by the participants.
---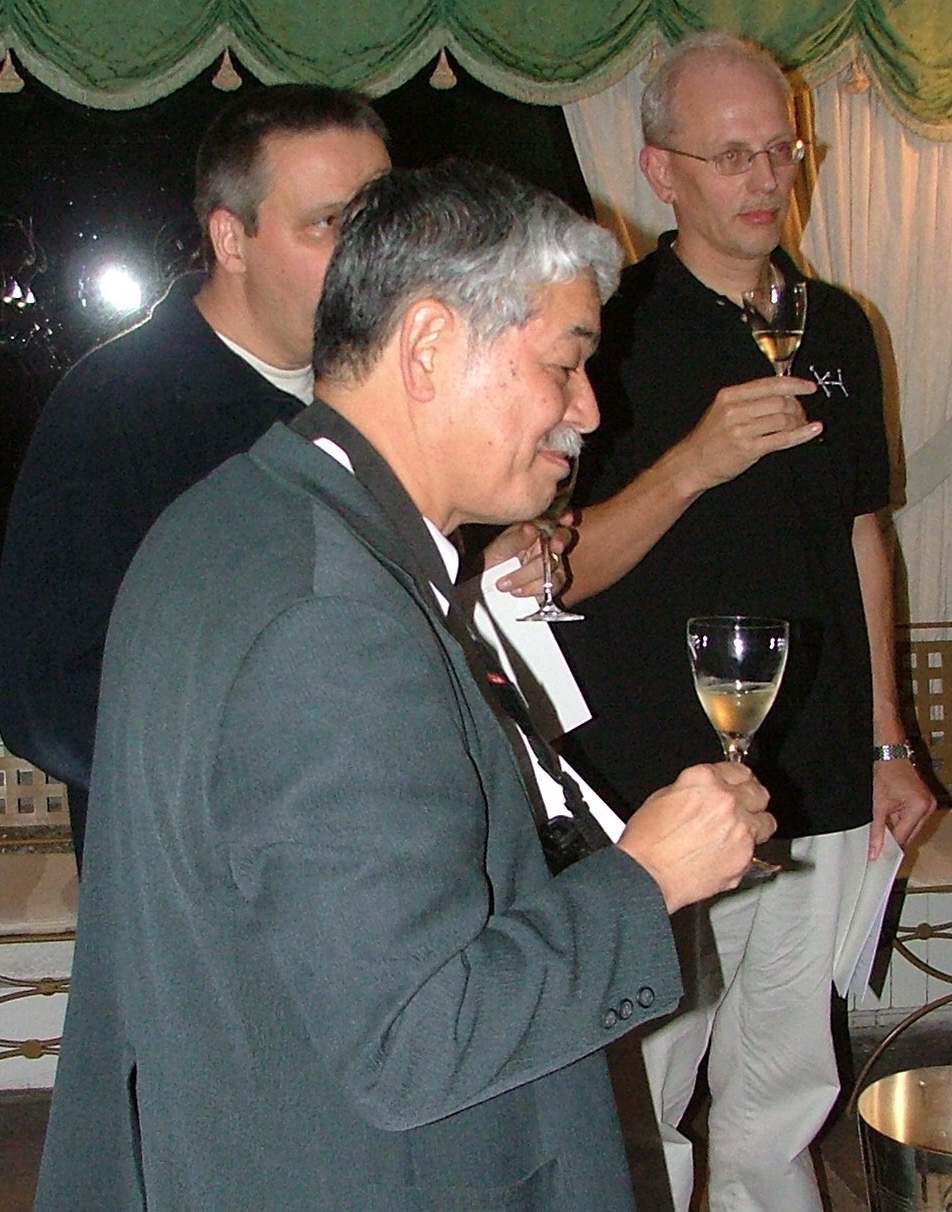 And more...
---
And still more -- Frederic Desprez twirls, Jeff Hollingsworth sniffs, and Andrew Grimshaw looks benignly on. My favorite part here is that like me, Jack did his looking, swirling and sniffing with little delay while the guy was talking, and then knocked it back.
---
Jack and his empty glass.
---
We've moved onto reds (Chateauneuf de Pape), and Bernard smiles as the wine man singles him out.
---
The wine tasting ends, and we move downstairs to dinner. Le menu.
---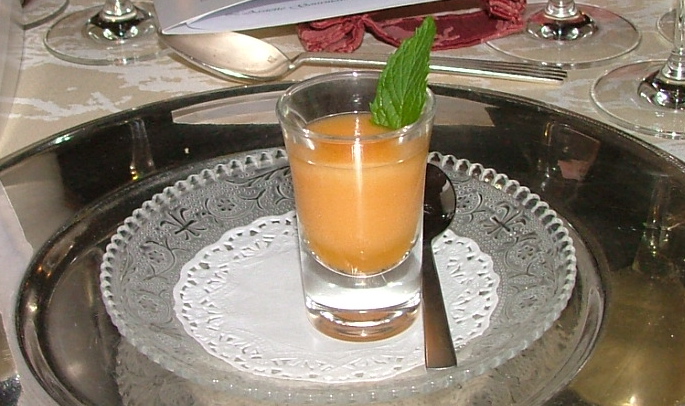 Course #1: De bouche a Oreilles. Since Patrick was with us, we received translations. This was also course #1 yesterday. The translation is: "From the mouth to the ears." Actually, "pureed canteloupe a la Gerber" would have been more accurate...
---
Course #2: La complicite de Lapereau Aux Senteurs d'Andromel, Chutney de fruits." Triangle of rabbit? I imagine I could convince myself that it wasn't cat food in a pastry triangle. It was still good. Meow...
---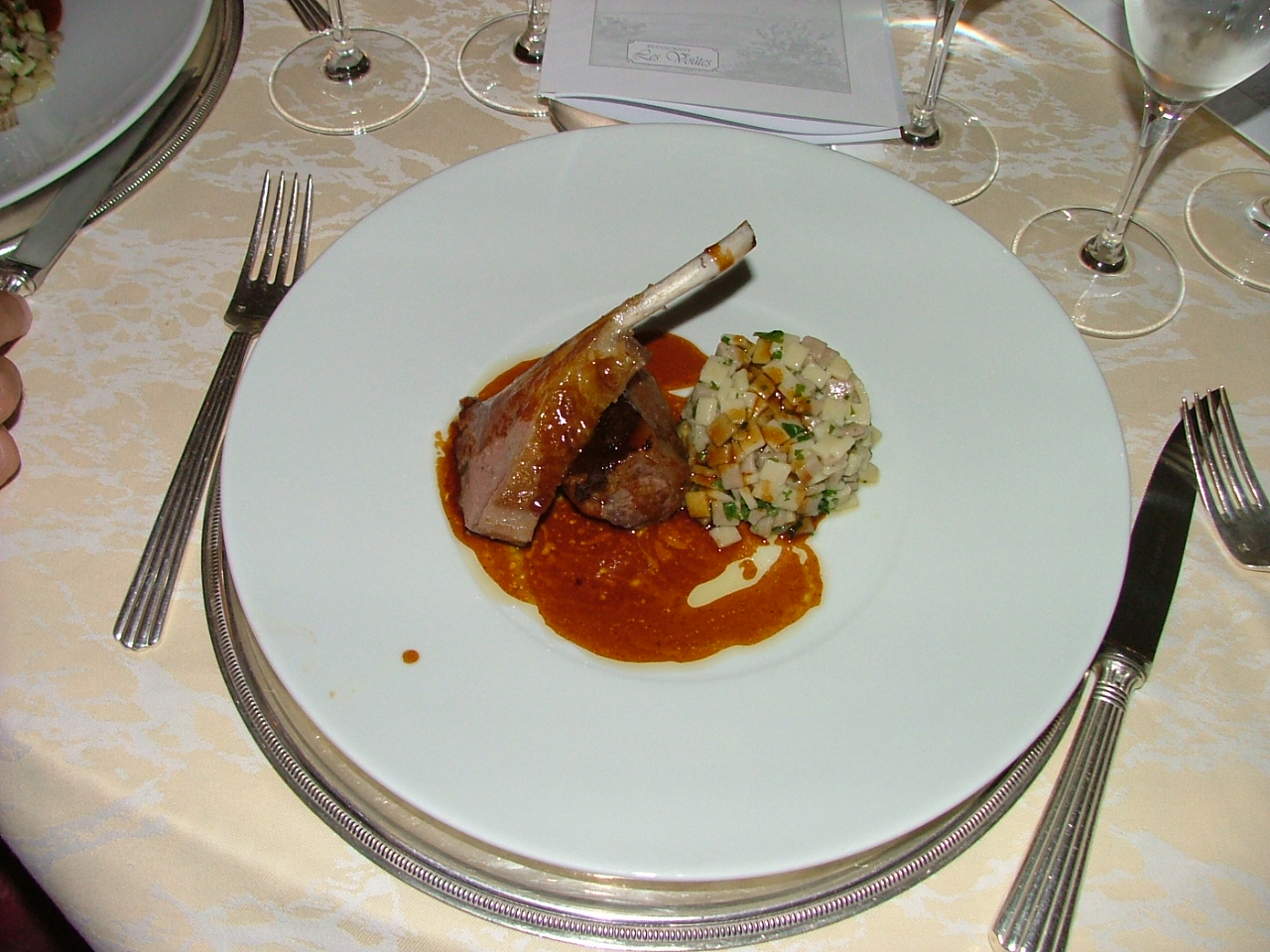 Course #3: Al Cote et Selle d'Agneau aux Olives Crozets et Savoie. Looks like a lamb chop to me -- the cubed zucchini stuff was excellent as well.
---
Course #4: Le Pre Dessert. Evidently the mouth to the ears and the pre dessert will be an every night occurrence. This pre dessert was a fig, I think. Maybe there was other stuff with it. Maybe not. Regardless, it was rather good.
---
Dinner compatriots -- Phil Papadapolous, Susan Blackford, Patrick Geoffray.
---
Dinner compatriots #2 -- Roldan Pozo, Craig Forrest, Jeff Hollingsworth, Danny Cohen, Craig Lee's hair.
---
Dinner compatriots #3 -- Someone who I should know, and Craig Lee.
---
Course #5: L'Assiette Gourmande d'Entremets. Chocolates, etc. I would have liked it better had there been no banana in that top one, but no one would trade me for it...
---
And onto lunch #2, 28 September. As I've gotten older, jet lag hits me harder, and I awoke around 5:00 AM this morning not to sleep again. So I got up at six and worked on erasure codes until the talks began. By the time coffee break #1 hit, I was again a zombie and napped until lunch. Hence, no pictures pre-lunch.
---
Course #1: Les Crevettes Marinees Aux Paprika et Curry Madras, Artichauts au Basilic. Swimming things with artichokes & avocado. Course #2: La Pintade Fermiere, Rotie en Bateau, Macaroni au Parmesan Reggiano -- looks like I forgot to photograph this one, which is a pity, because again, it was excellent.
---
Course #3: La Soupe de fraises et Rhubarbe; Sorbet. Pity Campbell's does not sell Strawberry & Rhubarb "soupe".
---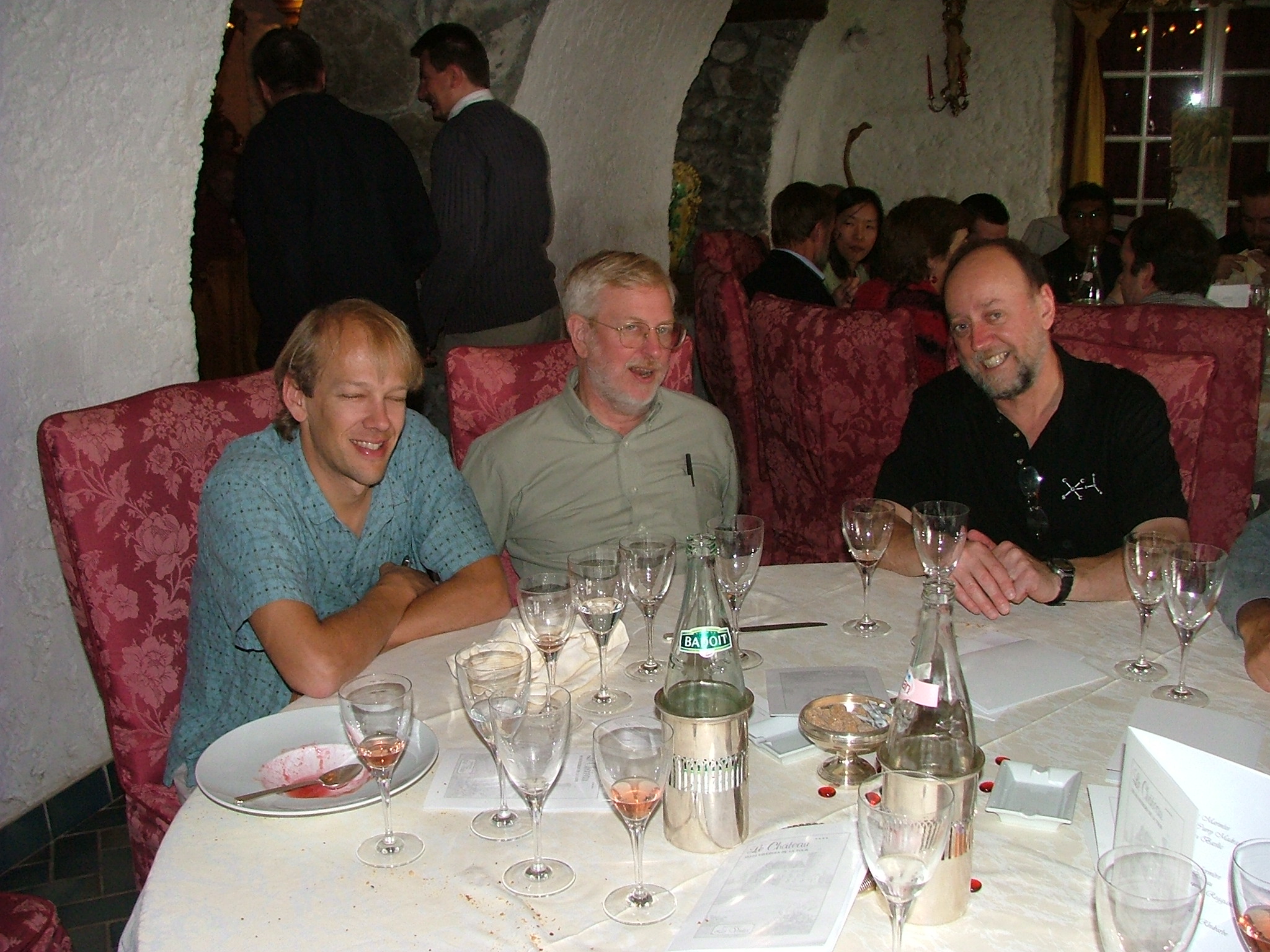 Lunch Compatriots #1: Pete Beckman, Rusty Lusk, Le Grand Fromage.
---
Lunch Compatriots #2: Roland Wismuller, Mrs. Saltz? Joel Saltz..
---
Lunch Compatriots #3: Thierry Priol, Mark Baker, Jean-Yves Bartheau. Post-luch, Mark, Thomas and I did more three-man tennis, which is an excellent way to work off all this food...
---
Jean-Yves was kind enough to take a picture that shows I was actually at this workshop.
---
After le tennis and le research talk with Micah, it's hors d'oeuvres, and learning about seguing back from industry to academia from Andrew Grimshaw.
---
The dinner menu.
---
Course #1 -- the ubiquitous Le bouche a oreille. This one was an Indian (mulligatawny?) soup which was really good.
---
Course #2 -- L'Ambrosie de Foie Gras et Caille en Croute d'Amandes; La cuisse au Balsamique. The Foie Gras was in the little glass cup -- the rest of the items were some sort of meat. I again forgot to take the picture before eating, but here are Andrew's leftover bones and uneaten Foie Gras. My first Foie Gras ever was here in 2000, and since then, I've gone from thinking that it's disgusting, to being able to eat it with pleasure. Since this was "ambrosia" of Foie Gras, it was not as strong as usual, which is a good thing.
---
Course #3 -- Le Magret de Canard aux Epices Torrefiees; Premeux de Racines; Endive Meuniere. Duck & potatoes; Endive manure?
---
Course #4 -- Tonight's pre dessert No clue what this was, but it was fruity and extremely tasty.
---
Dinner compatriots #1: Fran Berman, Bill Gropp, Andrew Grimwshaw. One of those odd things that I learned was that three of us at the workshop were at Yale from 1984-1988 -- Bill & Joel Saltz as faculty, and me as an undergraduate. Our paths didn't cross, of course, because they were doing the faculty thing, while I was tossing back beers at Demery's & Rudy's.... If you want to see Andrew be passionate, have him tell you about piloting gliders -- it was fascinating.
---
Dinner compatriots #2: Ken Miura and Cherri Pancake.
---
Dinner compatriots #3: Graham Fagg and Craig Lee.
---
Dessert: La Tarte au Chocolat. Self-explanatory.
---
Wednesday Lunch. After a full morning of talks, I have checked out, and am able to eat two-thirds of lunch before leaving a bit early with Steve Wheat and Phil Papadapolous. Le Menu.
---
La Pissaladiere et Sardine Grillee; Saumon en Gravenlach. I might have eaten the sardines on day one. Now that it's day three, I'm afraid I'm over it -- stanky fish will not be consumed... On the other hand, the salmon was great.
---
Duo d'Agneau; Matatouille de Legumes; Jus en Quintessence. Unfortunately I didn't have a translator. One piece of really gamey meat. Another piece of less gamey meat. Duck maybe? Untouched vegetables. Quintessential juice. Ok, when you're in France, you figure that the pretense is part of it all, but that was not quintessential juice. Fine juice, but not quintessential.
Within minutes, Phil told me it was time to go, so I missed dessert. My third trip to "Faverges de la Tour," and the locale has segued well from the place of novelty to an old friend. As Frederica Derema said, years ago at Blackberry Farm, one of the perks of being a scientist is that you get to travel to interesting places. I'll augment that -- an amazing perk is that you get to consider a place like Faverges to be an "old friend." I'm sure also that it goes as little surprise that the real scientific interactions are nurtured at the meals and the breaks, and not at the talks. Kudos and thanks to our organizers (Bernard and Le Grand Fromage) for another great meeting.