Mr. Argiope
This is our friend the "writing" spider. I thought he/she was pretty huge before he/she disappeared (do fish eat huge spiders?). Technically, this is an Argiope aurantia, otherwise known as a black and yellow garden spider, or a "writing" spider, because he weaves a line of white X's down the center of his web.

And yes, I know it should be Ms. Argiope...
---
The picture is actually upside-down, but it looks better this way.
---
Here's another argiope picture sent to me by an interested party (Louie Verreault LVerreault@trwd.com):
---
And huge one found by 5-year old Morgen Knott (Perkiomenville, PA), who named it ``ZIG-ZAG'' and sent me the pic.
---
And rather lean one sent to me by a woman named Colleen.
---
And a closeup sent by Adam from Michigan.
---
And one with an egg sac (All pictures are here), from Tom Allen in Cupertino, CA:
---
Two pictures by Rob Matos:
---
And one from Manning Oachs:

---
And one from David Ziegler:

---
And more from Eddie Davis in Richlands, VA. The female is the big one on the left, and the male is the wimpy one on the right....:

---
And one from Scott Spencer (Florida):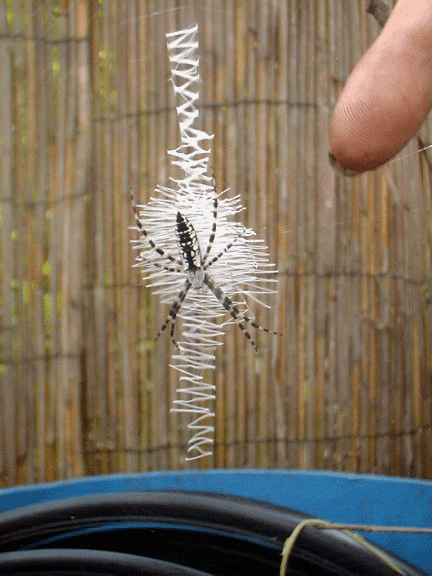 ---
Michael Dietz (Peralta, New Mexico) submitted one, who acquired a mate a few days later:

Another from Mr. Dietz
And yet another from Mr. Dietz
---
And one from Linda (Mulvane, Kansas):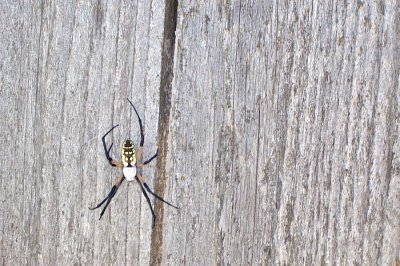 ---
And one from Mark (Jamestown, Ohio):

---
And one from Mark Binkowski (Lexington, KY):

---
And two from Terry Nance (Charlottesville, VA) -- eating a Swallowtail Butterfly in the second picture (Here's a blow up of the first picture):

---
Some kind of argiope, from Laguna Atascosa park in South Texas (near Brownsville). Sent by Jim Michel.

---
One with seven legs, sent by Randy Mosteller, photographed at the Zilker Botanical Gardins, Austin, Texas.

---
Here's one from Jeff Hosterman, Smyrna, GA.

---
And two pictures of one feasting, from Hailey Halderman, Topeka KS.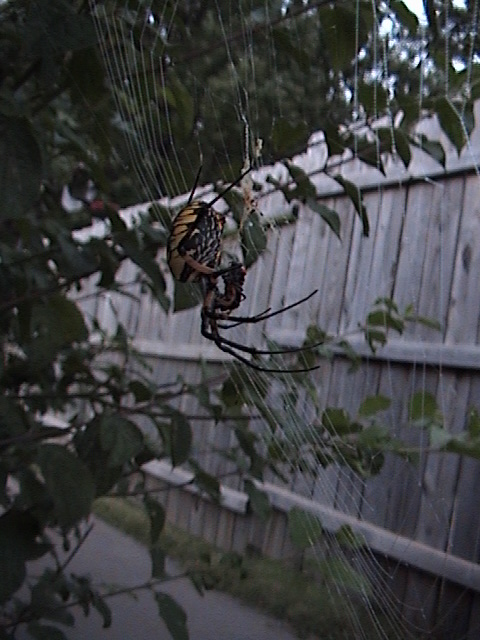 ---
From Jennifer Arthur, Versailles, MO

---
From Jesse Guajardo, Brownsville, TX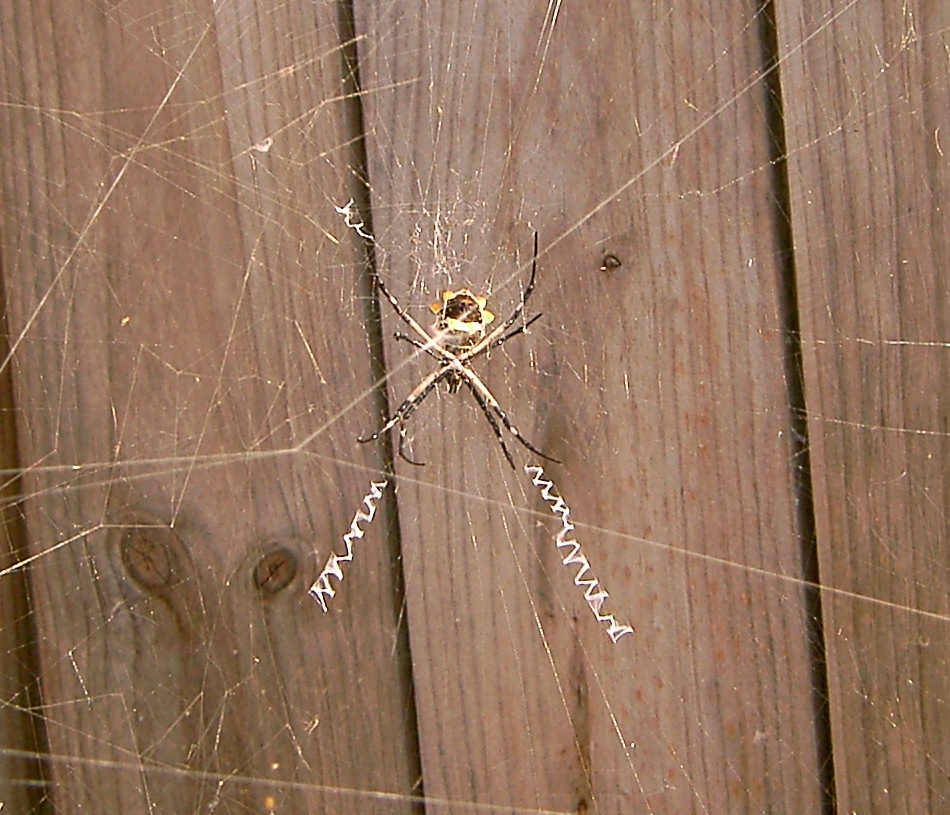 ---
From Stacy Carpenter, Chelmsford, MA. Photos taken by John Dick.

---
From Hendrik Sharples, Portland OR.

---
Other argiope stuff on the web